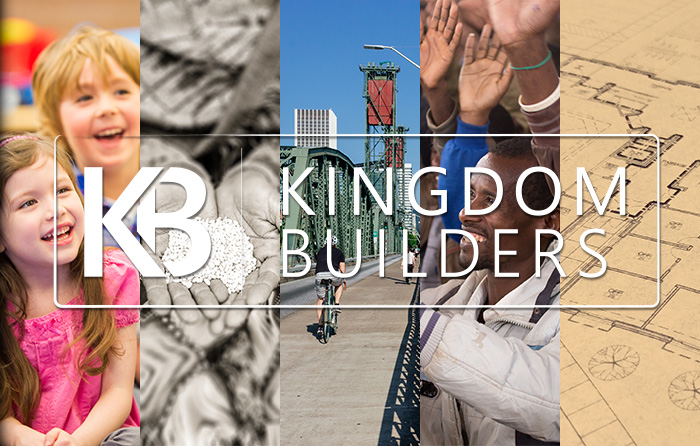 Kingdom Builders
We believe God has given us a mandate to Bridge People to Christ by demonstrating to our community and our world the living hope of a loving God. Kingdom Builders is a group of fully committed individuals and families who prayerfully commit to partner with us, over and above their tithes, to this on-going program of generosity and Kingdom impact.
We begin each year by prayerfully seeking what role God wants us to play in building His Kingdom. As God guides each year, our project list will focus on raising finances for missional ministries that connect with our overall vision, as well as, church capital projects that help us minister to our church family and city.
We are so excited at what God has in store for 2017 through Kingdom Builders! These are the following ministries we will invest our efforts in throughout 2017!
NEXT GENERATION MINISTRIES | $150,000
AREA MAKEOVER

Children's Ministry Area Makeover | Youth Ministry Area Makeovers

MATCHING FUNDS

Student Missions | Boys and Girls Missionary Club (BGMC) | Speed The Light
LEGACY MINISTRIES | $50,000
Senior Advocacy Services | Deacons Care Fund | Future Ministers Educational Scholarship
MISSIONAL ADVANCEMENT | $1,000,000
LOCAL IMPACT

Chi Alpha Campus Ministry: PSU, OSU, UO | Compassion Connect/Compassion Clinic | Convoy of Hope | Contagious Disciple Making | Dinner & a Movie | Gung Ho - Homeless Veterans | Japanese Fellowship | Living Letter – Sexual Brokenness | Neighborhood House | Portland Fellowship – Freedom for the Captives | Portland Rescue Mission | Pregnancy Resource Center | Royal Family Kids Camp | Teen Challenge | Teen Reach | Urban Missions Initiative – Portland Church Plants

GLOBAL OUTREACH

Bridges for Peace – Israel | Boys and Girls Missionary Club (BGMC) | Children's Relief Network | Gideons | Global Music Ministry | Gospel Ministry to the Deaf | Missionary's Support: More than 80 Missionaries Europe, Africa, Asia, Latin America, US | International Church Planting | Kakoro Church/School Planting - Uganda | Latin America Child Care (LACC) School Building | Discovery Series – International Curriculum Development / Translation | Little Davey Project | Mission Trip Project Matching Fund | Petros Network – Ethiopia, Uganda, South Sudan | PCC Sent Missionaries | Tamara Henkes | Tim and Jenny Kangas and family | Shaya Lindseth | Rochelle Nichol | Kamron and Janet Burchett and family | Speed the Light
Renovation Fund | $300,000
Connection Café | Lobby Makeover and New Carpet | Corner Property Development/Enhancement | Sanctuary Technology
Click here to fill out a Pledge Card and become a Kingdom Builder!